SEA
Kawamura Arts and Cultural Foundation Socially Engaged Art Support Grant FY 2021 Selected!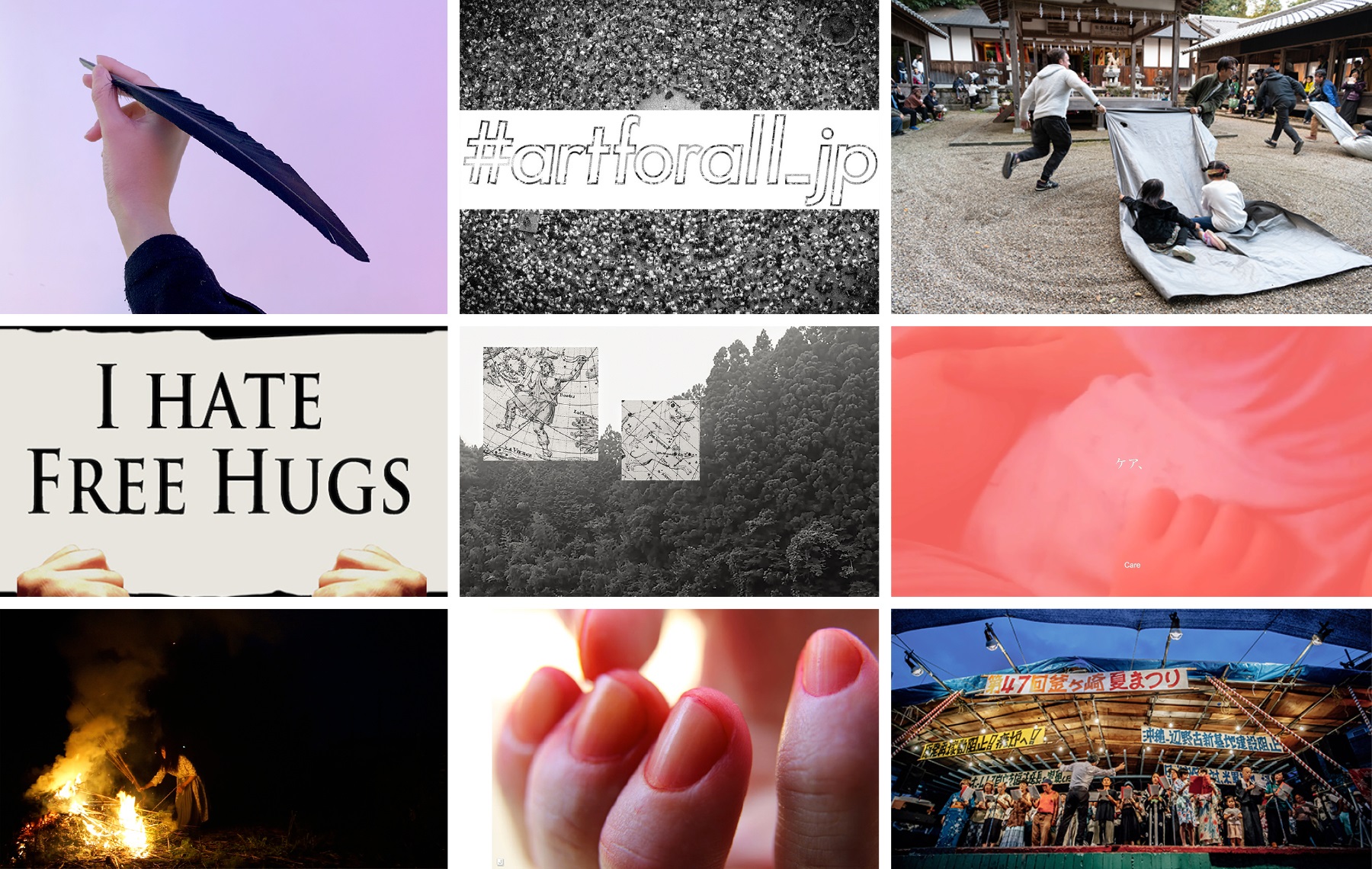 For fiscal year 2021, we invited project ideas under the theme of "Socially Engaged Art Projects Under the New Coronavirus Epidemic" in light of the current situation of the spread of the new coronavirus. Nine diverse projects were selected, covering themes such as the state of communities in the Coronavirus epidemic, the current state of the nuclear accident, gender issues, the socially vulnerable, and minorities. The FY2021 selected projects will be presented as prototypes (pre-workshops, prototypes, lectures, videos, etc.) in FY2022.
In the fourth year of the program, fiscal year 2021, nine projects were selected from 69 applications (14 from overseas and 55 from within Japan) through an open call and screening process.

■Nine projects selected as its grantee!
Grant Amount: 300,000〜400,000 JPY Total grant amount: 3,000,000 JPY
Thus, the human race will die out. | Kyun-chome
I hate free hugs | Atsushi Watanabe
Project F(tentative) | Bontaro Dokuyama
Corona online meeting | art for all
The voices from Bootes | Kiyono Kobayashi
"If five women gather, the plate will break" | HITO TO HITO
Mikanohara Community Opera, "For Unheard Voice" | Marga Sari
Voicing Care: Stories of She | Dr. Jennifer Clarke and Natsumi Sakamoto
Cocoroom Social Impact / Kamagasaki O! Pera
The practice of dialogue with society that links aimless-like activities of Cocoroom
| KAMAGEI ~Kamagasaki University of Arts


■Slection Committee
Yasuyo Kudo (Administrative Director, ART & SOCIETY RESEACH CENTER)
Kenji Kubota (Independent Curator)
Kenichi Kondo (Curator of Mori Art Museum)
Chiaki Soma (Representative Director of Arts Commons Tokyo / Art Producer)
Tadasu Takamine (Artist / Professor of Tama Art University)
Yoshitaka Mori (Professor of Tokyo University of the Arts, Graduate School of Global Arts)※Comments from the judges are posted on the Foundation's website. (PDF)
URL http://www.kacf.jp/data/news_doc/20210202182222_601919ce7eb23.pdf

■About socially-engaged art(SEA)
The Kawamura Foundation for Arts and Culture (President: Yoshihisa Kawamura) launched Japan's first support grant program for socially-engaged art in 2017. The Foundation provides grants to socially-engaged art projects in Japan that are committed to the community and society, and aim to present and build a better social model through production and activities with local communities and residents.

PressRelease_SEAsupportgrant_FY2021Selected.pdf